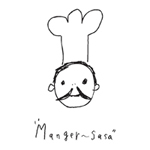 I was living in the home the maternal in Kochi Takaoka country from the age of three.
My mother was sickly,I was raised to grandparents.After graduation from high school, I went to RKC professional cooking school and began a single life.
After having worked as pastry chef in a hotel in Kochi, it became independent.In 1998,
he opened"Fruitier Sasa"He established manger sasa Ltd. in 2000 and he took Representative Directors ,and owner chef.In2002 he opened "manger sasa"in takasone.
In2004 he opended "Resturant Bonappetit".
His popularity became so high.But he learned to Maayuki Okuda running the restaurants such as "Al che-cciano", very active even after independence.
He opened a store in Tokyo, Jiyugaoka that is the sacred place of the confectionery and also a store in JP tower,
KITTE in front of Tokyo Station.Such as sweets with ingredients in Kochi, love the Kochi of hometown, and committed to the thought of confectionery producers working in Kochi , perform activity to send to the whole country.
Interview:http://in-shoku.info/foodfighters/vol404.html